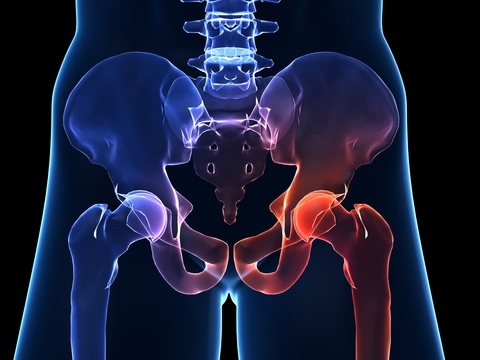 Hip preservation specialists at The Ohio State University Wexner Medical Center report that hip pain and femoral acetabular impingement (FAI) is increasingly common among young, active individuals. Thomas Ellis, MD, of the Wexner Medical Center, states, "FAI has become much more common in the last 10 years, and in younger people these injuries tend to be sports-related." Ellis affirms that high levels of activities, such as soccer, basketball, yoga, and dance, can cause the hip growth plate to fuse in an abnormal shape and lead to the condition.
Ellis explains, "While it can happen in non-athletes and weekend warriors, we commonly see this condition in those who were year-round athletes before and during puberty." Ellis suggests young athletes cross train in several different activities to "avoid overstressing the muscles that support the hip joint." According to The Ohio State University Wexner Medical Center news release, FAI can frequently develop into arthritis and the need for a hip joint replacement.
Symptoms of FAI can be confused with other health issues, including bursitis, back pain, or hip flexor strain.
In regards to nonsurgical treatment options for this condition, Ellis adds, "FAI doesn't always require surgery. Our comprehensive, multidisciplinary team includes physical therapists who work with patients to improve hip and core strength." Ellis also says FAI is treatable by reshaping the bone and repairing the hip cartilage using arthroscopy surgery, which is another successful treatment method. Ellis states, "Identifying FAI and treating it early is key in order to preserve hip function."
[Source: The Ohio State University Wexner Medical Center]