Sport-specific functional treatment with products that are easy to access and easily move athletes closer to successful outcomes
by Robert Babb, PT, MBA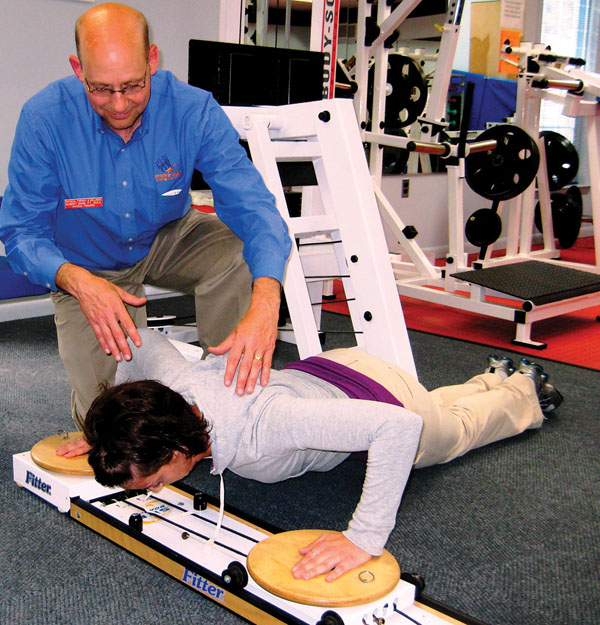 Keeping it simple is the most complex task we have. We could all take a cue from Steve Jobs. Apple's marketing brochure in 1977 used this headline: "Simplicity is the ultimate sophistication." That philosophy carried Jobs and his leaders at Apple from the first Macintosh computer to the iPhone 5. Jobs is quoted as saying, "Simple can be harder than complex: You have to work hard to get your thinking clean to make it simple. But it's worth it in the end because once you get there, you can move mountains."
That maxim is exhibited in what is currently one of the most successful home programs to which consumers subscribe: the 7-minute exercise program. Based on utilizing body weight, the creators of this program offer 12 exercises that are simple to learn, simple to perform—at high intensity—and simple to reproduce day in and day out.
Simply put, they are easy to do, and although intense, they aim to help an individual achieve a higher level of fitness. In contrast to the principle of simple, you, as a healthcare provider, have an opportunity to see programs steeped in complexity, which ultimately produce poor results. One such example is the nearly 2,000 pages that comprise the Affordable Care Act (ACA). This behemoth illustrates how complexity inhibits understanding and execution. Looking at the ACA, it is tempting to ponder how Steve Jobs might have engineered the program—how he would have packaged it, explained it, and rolled it out to the public. Unlike Jobs' creations, though, government and healthcare are rarely simple.
Unlike agents of governance, physical therapists have an opportunity to leverage simplicity. And, if therapists learn anything during a career, they learn that individuals for whom they provide care respond to simplicity. Keep it simple, and patients are more likely to be motivated to comply with it and move toward a successful outcome. Who would argue that a three exercise home program is more likely to achieve compliance than a sophisticated 12-exercise program? Simplicity improves efficiency in the clinic and builds confidence with customers.
How often have you gone over the RICE rule for acute injury? It seems simple to us clinicians, if not redundant. For the layman, however, that simplicity makes it easier to recall—and benefit from—this important protocol.
It is "simple" that inspires, not complex facts or data. And when people are inspired, new possibilities emerge. So when asked to write this article about small equipment for sports injuries, I couldn't help but focus on the importance of simplicity.
Plans of care begin and end with equipment, so let's investigate some ideas for delivering sports injury treatment programs that begin in the clinic using simple equipment, and carry over to home, work, and
travel settings.
In examining product options, a therapist should consider that any gear that is recommended for a patient to use at home should be easy to use and easy to access. Neighbors, family, or friends often have equipment patients may need. (How many folks know of someone with an unused exercise bike sitting idle in a basement?) These sports-specific treatment programs each begin in the clinic, where supervision helps the patient understand the equipment and activity, build a foundation, then progress to the desired setting. One rule of thumb, however: No home exercise is performed simultaneously in the clinic and at home, since the idea is for the patient to progress from one setting to the next.
Simple Equipment
BOSU ball and balance pads The BOSU ball, and the variety of balance pads and cushions on the market, act to challenge the correct muscles to fire at the correct time to achieve the correct balance response (proprioceptive training). This process aims to get the user back to running, back to work, or back to the fields. Exercises to use with these products include parcel squats, lunges, and bilateral to unilateral work on progressions.
In addition to rehabilitating from injury, incorporating these exercises into a patient's regular exercise routine will help them as they age, since research suggest aging athletes and adults lose balance over time. A variety of balance products, including the BOSU Balance Trainer and Airex Balance Pad, are available from manufacturers such as Fitter International Inc, based in Calgary, Alberta, Canada. Other types of wobble boards and the BAPS (biomechanical ankle platform system) are offered by Dedham, Mass-based AliMed Inc.
Pulleys
As an excellent, low-cost, passive treatment for shoulder recovery from sports injuries, pulleys are easy to use to restore capsular mobility and lengthen soft tissue, while in some users they serve to protect the surgical site of repair. For true passive motion, the therapist should emphasize instruction, and explain to the user that the affected shoulder "goes for a ride" when using this device.
Using parts purchased from a local hardware store, patients can build a unit for less than $10. But as a convenience, units can be offered for purchase in the clinic. Endorphin Corporation, headquartered in Pinellas Park, Fla, markets a wide selection of pulley-based equipment for use in the clinic designed to
be wall-mounted or free-standing.
Foam rollers
Foam rollers provide stretching and self-mobilization to targeted areas, and are readily available at retail sports equipment centers. As a great way to supplement the manual work performed in the clinic, foam rollers provide self-soft tissue mobilization to improve muscle flexibility and tightness, decrease lactic acid, decrease muscle fibrosis (adhesions/scar tissue), and decrease risk for injury. Alternating body weight, the user puts pressure through the muscles to regulate areas of increased muscle tone or tightness. The Star Roller, available from Minneapolis-based OPTP, is designed with a ridged surface to compress and release tissue and mobilize connective tissue.
Heavy balls and step/boxes
Developing power (the amount of energy produced in a short period of time: burst) is critical for reproducing job demands and sport activities. Warehouse workers need short bursts of strength to meet specific push-and-pull work demands, while offensive linemen and hockey players need push skills. Heavy balls are ideal for home instruction because they are easy to use, easy to find, inexpensive, and reproducible.
OPTP offers the gel-filled HeavyMed Ball and Power Med-Balls, which can be used for these exercises, as well as the FitBALL MedBall weighted medicine ball, from Ball Dynamics, Longmont. Colo.
Box jumps (plyometrics) are an additional form of burst exercise, and can be useful for treating sports injuries as eccentrically loaded muscle learns to fire fast in a short period of time. This offers jumping athletes and exercise enthusiasts movements that are safe, progressive (from 4- to 30-inch box jumps), and
functional. Power PlyoBoxes are available from Knoxville, Tenn-based Power Systems Inc.
Dumbbells
Eccentric training provides benefits that are often left unnoticed, and are those that use the lengthening motion of strength training to trigger hypertrophy the most.
From low-level bicep eccentric training, to the highest levels of quad training in a closed-chain fashion while holding dumbbells, assigning creative exercises to meet the patient's goals will improve compliance.
Bands to cable
Elastic bands and tubes are available from several manufacturers, including Thera-Band, offered by The Hygienic Corporation, Akron, Ohio, and Fit-Lastic Therapy Products, offered by Stretchwell, Warminster, Pa. The products are essential gear for exercises that are sometimes begun in a clinic, progressed to home once competency is achieved, and finally progressed to resistive cable units as strength is obtained. Resistance through the end-range movements is more easily obtained, differentiating routines from conventional dumbbell exercises.
Agility ladders
To facilitate burst, acceleration, foot speed, and to accept the ground reaction forces after stress fracture, or for offering a variety of exercises that will motivate weekend warriors and aging athletes, agility ladders are portable enough to take home and use indoors or outdoors. The ladders make simple sense in the clinic or at home. If there is no access to one, chalk lines on a driveway or spray paint on grass function equally well.
Cardio endurance equipment
Multiple pieces on the market offer a wide array of features that a short time ago used to be available only in expensive fitness centers. Progressive weight-bearing from a bike, to a NuStep (NuStep Inc, Ann Arbor,
Mich), to an elliptical to running make simple sense to patients, while adjustments in speed, stride length, resistance, and ramp offer a physical therapist many options.
These devices are typically available for use in a health club or hotel, and progression is simple for patients to understand. A wide selection of cardio equipment is available from Petaluma, Calif-based Exertools Inc. NuStep offers cardio equipment designed for use in the home or clinic.
Aquatic
Not all clinics have aquatic resources available, but patients respond well and understand simple concepts of buoyancy unloaded (deep water) and the partially loaded exercises, maximizing viscosity for resistance. If a patient cannot run on cardio endurance equipment because of joint pain, the water acts as an excellent cardiovascular endurance training opportunity.
The Alter G
Manufactured by Fremont, Calif-based AlterG, this device is found only in a clinical setting because of the expense. Running and walking can be accomplished from 30% to full weight-bearing with easy-to-understand instruction. Many clinics sell "minute" packages to help offset the cost associated with this capital expense, which can provide an ideal therapeutic and conditioning resource for injured athletes.
As a physical therapist, occupational therapist, or other provider whose business is to help others achieve higher levels of function and performance, success in the clinic, gym, or in life is determined by the simplicity of your prescribed programs and the clarity of your instructions—all designed with the patient's goals or demands in mind.
As they say in business, keeping it simple makes your organization lean, and simply put, it will make your practice and delivery more efficient. PTP
Robert Babb, PT, MBA, is founder (2002) and president of The Physical Therapy & Wellness Institute, a five-clinic practice headquartered in Lansdale, Pennsylvania. Babb earned an MBA from DeSales University, and has lectured about business management and marketing at the APTA Combined Section and Private Practice Conferences. Babb is a licensed physical therapist with 28 years of experience helping individuals with acute, chronic, work-related, and sports injuries. For more information, contact Robert.babb@nullptwinstitute.com.