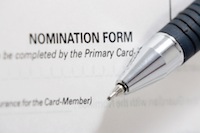 The American Physical Therapy Association (APTA) is encouraging the nomination of extraordinary physical therapist and physical therapist assistants for APTA national honors and awards. According to an APTA news release, the organization aims to celebrate members' outstanding achievements each year in the areas of education, practice and service, research, publications, accomplishment, and academic excellence. The 2014 call for nominations is now open.
Award recipients are recognized in June with a ceremony and reception at NEXT, the annual conference and exposition of APTA.
The 2014 call for nominations will close December 1, 2013, as indicated in the APTA news release. Nominees can be nominated with an electronic submission process, and those interested in nominating a colleague or student can do so by visiting this website: www.apta.org/HonorsAwards. Additional details, such as the requirements and guidelines on each honor and award, are also available on the site by selecting the title of the specific honor.
[Source: APTA]