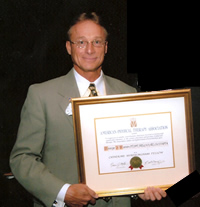 George J. Davies, DPT, ATC, CSCS, PES, FAPTA, was recently inducted into the American Orthopaedic Society for Sports Medicine's (AOSSM) Hall of Fame at its Annual Meeting. Those inducted into the AOSSM Hall of Fame are individuals in the sports medicine community who have contributed greatly and set themselves apart from others in the field. Davies is an internationally known speaker who has presented at a number of conferences on topics ranging from sports physical therapy to rehabilitation and orthopaedics.
Dr. Davies has also been involved in teaching in physical therapy programs and is presently a Professor of Physical Therapy at Armstrong Atlantic State University in Ga. According to a Newsday report, Davies was the original co-founder and co-editor of The Journal of Orthopaedic and Sports Physical Therapy (JOSPT) and the journal honored him with the creation of the George J. Davies- James A. Gould Excellence in Clinical Inquiry Award to honor his achievements at the 25th anniversary of JOSPT.
The Newsday report also indicates Davies is one of the original Associate Editors for Sports Health: A Multidisciplinary Approach and has been a member of the AOSSM-SPTS for more than 25 years. Over the course of his career, he has been involved in the clinical practice of sports physical therapy/athletic training and presently maintains an active clinical practice at Coastal Therapy in Ga and Gundersen Lutheran Sports Medicine in Wis.
Photo Appears Courtesy of Armstrong Atlantic State University
Source: Newsday