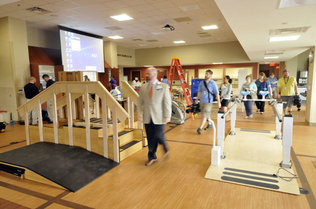 Carolinas HealthCare System (CHS) will open a new 30-bed inpatient rehabilitation hospital in Concord, NC for patients recovering from severe injury or strokes that have resulted in decreased physical function, according to the Charlotte Observer. The new facility, which is close to the campus of Carolinas Medical Center-NorthEast, will reportedly serve residents of Rowan, Stanly, Iredell, and Cabarrus counties. A full-scale outpatient physical therapy clinic is also located at the hospital.
The new CHS rehab hospital totals 70,000 square foot and has two gyms filled with therapeutic equipment, which includes a separate quiet therapy space for noise-sensitive patients. Patients who are close to being able to return home can practice household chores, such as cooking, in the transitional living apartment at the facility. Patients can also spend the night in the apartment sleeping in a regular bed, along with their families, to make sure they're ready to live at home.
The report notes that the $26.4 million hospital will expand to 40 beds in October. NorthEast is the third rehabilitation hospital operated by Carolinas Rehabilitation, and a fourth will open on the Carolinas Medical Center-Pineville campus in September. The new clinic is part of a nationwide trend over the past 10 years of moving rehabilitation units out of traditional hospitals, according to the Observer report.
Photo Appears Courtesy of the Charlotte Observer
Source: Charlotte Observer