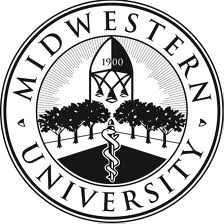 The physical therapy doctoral program of Midwestern University, a multi-state school focusing on health care education, recently received notification of accreditation from the Commission on Accreditation of Physical Therapy Education (CAPTE). The physical therapy doctoral program is one of eight graduate programs offered by the University's College of Health Sciences. The program accepted its first class of students in 2010.
The 36-month Doctor of Physical Therapy (DPT) program graduated its inaugural class at a commencement ceremony May 31 at the Midwest University campus. Judy Woehrle, PT, PhD, OCS, program director of Physical Therapy, says receiving the accreditation has been a goal of the faculty, staff, and administration since the beginning of the program in 2009.
Woehrle adds, "Faculty and staff placed much thought and time into the self-study document to ensure that all information accurately reflected the program's mission, goals, outcomes, and philosophy," and expressed her thanks to the "administration, faculty, and staff for their dedication and support during this rigorous process."
Physical therapists in this program address functional limitations, provide patient care, develop a plan of care based upon goals and anticipated outcomes, and discuss prevention, onset, and impairments. The College of Health Sciences at Midwestern University was founded in 1992 with the purpose of offering programs in health professions that have a demonstrated shortage.
Source: Midwestern University