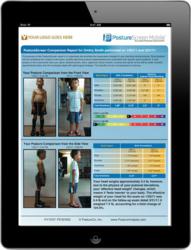 The PostureScreen Mobile app from PostureCo Inc, has announced a strategic partnership with kinesiology taping company RockTape. The PostureScreen app is designed to enable a variety of health care professionals, including physical therapists and fitness professionals, to improve objective documentation, analysis, and efficient exercise prescription. PostureCo Inc is a technology company focusing on posture and mobile analysis in addition to x-ray EMR products for fitness and health care professionals.
With the latest update to the mobile app, fitness and health care professionals can now prescribe general kinesiology taping protocols through its WebExercises interface.
According to the PRWeb.com news release, RockTape is designed to aid in the treatment of common sports injuries and general joint pain, as well as increase endurance during an athletic event. Now, with Posture Screen Mobile, customers will be able to send kinesiology taping protocols anywhere and at any time. PostureCo CEO Dr Joe Ferrantelli explains that the rehabilitative program is a simple, customizable plan tailored for each patient.
Ferrantelli states, "Nothing on the market has ever been this simple to allow clients or patients to meet their wellness or health care goals." Overall, the RockTape partnership will allow posture and movement analysis to combine with kinesiology taping for users of PostureScreen Mobile. The app has reportedly been a top rated health and fitness app in the iTunes App Store and has also been honored by several magazines, including Money Magazine, Details, and GQ, as a "Top App" to download.
[Source: PRWeb.com]