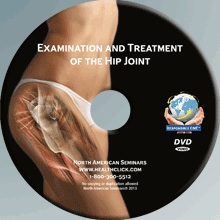 A new physical therapy continuing education course, titled "Examination and Treatment of the Hip Joint," aims to instruct therapists how to perform a comprehensive clinical evaluation on the hip joint. The North American Seminars course is also designed to help physical therapists develop systematic treatment plans, including the latest evidence-based interventions. The online continuing education course is narrated by Michael P. Reiman , PT, DPT, OCS, SCS, ATC, FAAOMPT, CSCS.
The educational course provides detailed description of hip physical examination testing, including how to rule out the lumbar spine and SI joint/pelvic girdle as possible pain generators, and supplemental written materials are provided on how to perform the hip join examination. In addition, the supplemental materials include information on the appropriate tests to implement, what patients to perform the tests on, and the diagnostic accuracy of such tests as well as what entails a positive or negative test.
The continuing education course also features interventions, which allow the clinician to clearly see how to perform stretching, manual therapy, and strengthening techniques as they apply to the hip pain patient. Information regarding proper hand placement, setup, technique, reassessment, and EMG values is given to empower the clinician to make informed decisions on what interventions are the most clinically applicable to different patients.
This PT online course has a number of objectives, including: performing proper joint mobilization techniques for hip joint dysfunction, performing a differential diagnosis, and developing evidence-based rehabilitation programs for specific dysfunctions based on scientific literature. For more information on this continuing education course, visit www.healthclick.com.
[Source: North American Seminars]