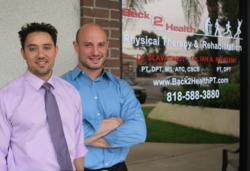 Back 2 Health Physical Therapy, a Los Angeles-based physical therapy and rehabilitation clinic, is opening a new facility in Burbank, Calif with new services for clients. The new location is a large facility that reportedly includes new, state-of-the-art exercise equipment for strengthening, cardio, and rehabilitation. The Burbank facility also includes comfortable rooms for private consultation and therapy.
Ian A. Novotny, PT, DPT, a co-owner and operator of the clinic, "We designed our new Burbank facility to be more rehab-specific so we could better cater to our patients' individual needs." The new location is the second stand-alone facility of Back 2 Health as the physical therapy group expands its practice. The first location is in West Hollywood, Calif, which offers aquatic therapy and physical therapy.
A new service for clients will be golf-related therapy, a specialized service, and Michael Rose, PT, DPT, TPI-CGFI received his Titleist Performance Institute (TPI) certification to provide this therapy. Co-owner and operator Vladislav Shit, PT, DPT, MS, ATC, CSCS states that with Rose's new certification, "he will bring a higher level of care to our clients seeking golf-specific fitness or a desire to understand golf-swing mechanics."
The therapists of Back 2 Health Physical Therapy specialize in treatments related to sports injury, nerve damage, orthopedic injuries, and muscle and joint pain. The PT group aims to tailor physical therapy regimens specific to the needs of clients and patients who suffer both complex and basic injuries.
Photo Appears Courtesy of PRWeb.com
Source: PRWeb.com