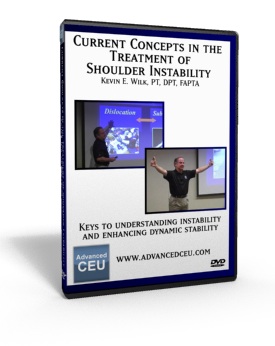 The Advanced Continuing Education Institute (CEU) is offering the educational DVD series Current Concepts in the Treatment of Shoulder Instability. The three-DVD series includes 3 hours of content from Kevin Wilk, PT, DPT, a clinical physical therapist and educator focused on treating disorders of the shoulder. The set is the first in a series of new DVDs dedicated to specific clinical pathologies.
Shoulder instability is a common pathology encountered in the orthopedic and sports medicine setting, and nonoperative rehabilitation is utilized in patients with shoulder instability to regain previous functional activities. The DVD set reviews the specific principles associated with nonoperative rehabilitation for the various types of shoulder instability and discusses the specific rehabilitation program for each pathology type.
In addition, the DVD series demonstrates various techniques to enhance dynamic stability and neuromuscular control.
The DVDs were recorded during a live seminar conducted by Wilks. The three-DVD set includes the following titles: Current Concepts in Shoulder Instability; Principles of Nonoperative Rehabilitation of Shoulder Instability; and Techniques to Enhance Dynamic Stabilization. For more information on this DVD set, visit www.advancedceu.com.
[Source: Advanced Continuing Education Institute]