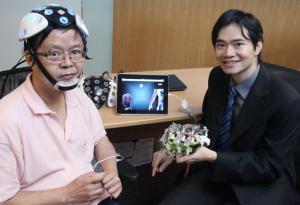 Developed by researchers at The Hong Kong Polytechnic University (PolyU)'s Interdisciplinary Division of Biomedical Engineering (BME), the new Brain Training Device can aid stroke survivors in regaining movement. The device detects brain waves, which enables the patient to control the movement of paralyzed limbs or, even further, control a robotic hand, according to a Science Daily report. The new technological device can reportedly be coupled with the use of the "Hand of Hope" to assist in achieving a higher degree of recovery for stroke patients.
The research team, led by Professor Raymond Tong Kai-yu, developed the device with a new coherence algorithm for hand function training. The Science Daily report notes that the new algorithm is based on frequency coherence on surface electroencephalography (EEG) and electromyography (EMG) to identify voluntary intention and their connection. Tong explains the Brain Training Device is able to "guide the stroke patients to relearn the reconnection between the brain and the limb" with a new design on the EEG headset and EMG forearm brace to transmit data for controlling a hand robotic system.
The patented Training system also has new features to determine the specific EEG electrode locations for each individual stroke patient and reduce the number of EEG electrodes. Tong explains this can reduce the system cost and the preparation time for brain training. The Science Daily report indicates that the high accuracy and low number channels means that the device can be a practical tool for rehabilitation training and assistive aid. The system is also designed to be portable and easy-to-use in home settings and hospitals.
The PolyU research team has filed for patents for the Brain Training Device in China and the US. The project is funded by the HKSAR Government's Innovation and Technology Fund (ITF).
[Source: Science Daily]