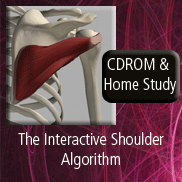 The Interactive Shoulder Algorithm, an online shoulder evaluation course offered by North American Seminars, Inc, has been granted preapproved continuing education status in more than 24 states. The course is a PT continuing education class with a software component delivered on CD for physical therapists, physical therapy assistants, and occupational therapists, and the CD is usable on a MACOSX or Windows OS desktop computer.
The online class consists of home study course material and instant online access to the online part of the course content. The course is designed to enable clinicians to develop more effective rehab programs due to their greater understanding of the evaluation process in addition to the anatomical implications of the tests themselves. Therapists are given step-by-step processes to appropriately diagnose shoulder complex dysfunction.
Each test segment of the course covers a number of areas, including: critical pathways, clinician positioning, clinician hand positions, and motion direction. Also, there are a number of objectives for the continuing education course, such as identifying anatomical landmarks of the shoulder complex and identifying positive test results when performing specific shoulder tests.
A news release from the company states the course is an engaging tool for individuals or teams to learn how to effectively evaluate orthopedic dysfunction of the shoulder complex. Students who complete the Interactive Shoulder Algorithm Course with a passing grade will qualify to receive CEU credit. In most states, the home study portion of the course is 10.5 hours and offers 1.05 CEU.
For information on this continuing education course, visit www.healthclick.com.
[Source: North American Seminars Inc]