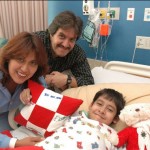 ProRehab, a private physical and occupational therapy practice, recently announced its partnership with Soaringwords, a global non-profit organization. The mission of Soaringwords is to lessen the impact of serious illness by connecting ill children and their families to a community of caring volunteers. According to the company news release, ProRehab joined forces with the non-profit group to help inspire local children and their families to "Never give up!"
The inspiration for the children and families was delivered in the form of pillows and quilts, which were decorated with messages of encouragement, love, and motivation. Staff members and patients of ProRehab decorated more than 60 red and white patchwork quilts and pillows that will be delivered to young patients at Kosair Children's Hospital in Louisville, Ky.
Andrea Baumann, PT, owner of ProRehab, states, "We truly enjoyed working with our patients to decorate these beautiful quilts and pillows with inspirational messages," adding that the group is honored to be a part of a community effort to provide love, compassion, and warmth to children they don't typically see in their clinics.
Soaringwords has reached more than 250,000 children and adults through hospital and educational outreach programs as well as schools in 30 states and more than 100 hospitals. The non-profit organization aims to provide fun, creative, and educational activities that cultivate hope, laughter, healing and joy.
Source: ProRehab