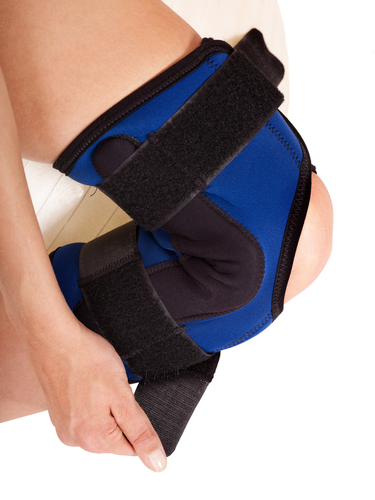 According to a new study conducted by researchers at The University of Manchester, wearing a knee brace may "significantly improve the pain and symptoms" of a form of osteoarthritis affecting the kneecap. The research team performed a randomized controlled trial of a lightweight lycra flexible knee brace fitted around the knee with a strap for the kneecap. A total of 126 patients between the ages of 40 and 70 were treated over a 3-month period.
Each patient in the study had suffered from arthritic knee pain for the previous 3 months. The participants in the study were allocated, at random, to either delayed treatment or immediate brace treatment. The study notes that both groups of patients eventually wore the brace for a period of 12 weeks for an average of roughly 7 hours per day.
The results of the study found that after 6 weeks of brace wearing, there were significant improvements between both the brace-wearing group and the no-treatment group in scores for symptoms, knee stiffness, pain, muscle strength, and function. After 12 weeks, there were also significant improvements in these scores for all patients compared to when they began the study.
Michael Callaghan, PhD, MPhil, MCSP, a research associate in rehabilitation science at the University of Manchester, states, "Patients repeatedly told us that wearing the brace made their knee feel more secure, stable, and supported." Callaghan adds that the theory of the researchers is that these sensations gave the patient confidence to move the knee more normally, which helped improve knee function, symptoms, and muscle strength.
Professor Alan Silman, medical director of Arthritis Research UK, the group that funded that trial, says, "By using a simple brace, the researchers have been able not only to correct the alignment but achieve a very worthwhile benefit in terms of reducing pain and function," and the approach may be an advance over relying on pain killers. He states it may also have the potential of reducing the need for joint surgery and replacement.
[Source: The University of Manchester]