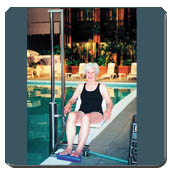 Aquatic Access – Water-Powered Lift
Aquatic Access, Louisville, Ky, provides lifts powered by clean flowing water (no batteries or electricity required), built to order from quality materials in the USA. These lifts are engineered to offer reliable and safe access to aquatic therapy for everyone and meet the ADA requirements with a fixed lift that can be easily removed for storage. Standard models lift up to 400 pounds, and custom bariatric units are available for greater capacities.
For more information, contact Aquatic Access,
(800) 325-5438
www.AquaticAccess.com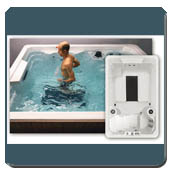 Endless Pools – Exercise Spa
Endless Pools, Aston, Pa, introduces a new Exercise Spa to its expanding spa line in 2013. The Endless Pools 10-foot Exercise Spa is designed to accommodate aquatic therapy and water exercise, and is well-suited for training and rehab. Featuring an underwater treadmill with resistance current, the spa delivers a low-impact environment for water walking or running. With a minimal footprint and innovative features, the 10-foot Exercise Spa from Endless Pools is intended to serve as an advanced compact physical therapy pool for private-practice PTs.
For more information, contact Endless Pools,
(800) 732-8660
www.endlesspools.com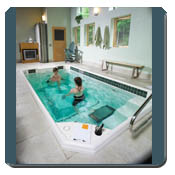 HydroWorx – Underwater Treadmill
HydroWorx, Middletown, Pa, is a leading manufacturer and developer of aquatic rehabilitation products. HydroWorx technology aims to provide therapists high flexibility in barrier-free modular pools, satisfying the contrasting demands of traditional rehabilitation and training. HydroWorx aquatic therapy pools are designed to offer affordability and to reduce the time needed to facilitate rehabilitation and performance training. The HydroWorx 500 Series pool comes standard with an underwater treadmill, resistance jet technology, as well as customized options. Leasing is available.
For more information, contact HydroWorx,
(800) 753-9633
www.hydroworx.com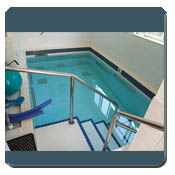 NESPA Tiled Spas – Therapy Spa
NESPA Tiled Spas, Oroville, Calif, manufactures all custom therapy pools and cold plunges. Each vessel is engineered and built one at a time to fulfill the needs of each individual client. The company reports that its products are medically and commercially approved nationwide, and the interior is completely hand tiled to create a high-quality product surface and sanitary environment. The client helps design therapy stations, depths, tile surface options, and jet locations. NESPA has been a leader in manufacturing spas in the therapy spa/pool market for more than 31 years.
For more information, contact NESPA Tiled Spas
(888) 479-4677
www.tiledspas.com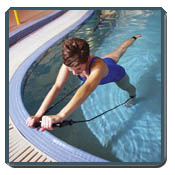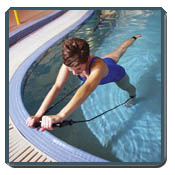 NZ Manufacturing – Pool Aqua Band
StrechCordz Pool Aqua Band from NZ Manufacturing, Tallmadge, Ohio, is a stretch-band designed for multiple in-water and dry-land applications. Created to meet a range of fitness needs, the Pool Aqua Band can be used for aquatic therapy, rehabilitation, aerobics, and dry-land resistance. The product features exercise tubing with an ankle cuff attached to one end and a handle to the other. It is available in five resistance levels, and it can be used to improve tone and develop leg power for swimmers at almost any ability level.
For more information, contact NZ Manufacturing,
(800) 886-6621
www.strechcordz.com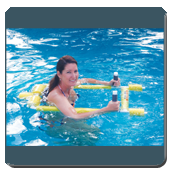 Sprint Aquatics – Water Walking Assistant
Sprint Aquatics, San Luis Obispo, Calif, markets a Water Walking Assistant engineered to improve balance and gait by providing support to the upper body while helping to increase strength in the legs. The product's quality PVC targets exceptional integrity, and the oversized foam is designed to provide both comfort and buoyancy. The handles are padded as well. The Water Walking Assistant is manufactured in the USA. The product's inside measurements are offered in extra small, small, medium, and large.
For more information, contact Sprint Aquatics,
(800) 235-2156
www.sprintaquatics.com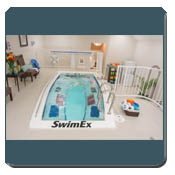 SwimEx – Versatile Therapy Pool
SwimEx, Fall River, Mass, offers the SwimEx pool model PT500, which provides three varying water depths in one pool to allow enhanced non-weight-bearing to weight-bearing progression. The adjustable current flow created by the paddlewheel propulsion system is engineered to be smooth, measureable, and allow therapists to monitor patient progression. Current flow is also intended to be gentle enough to aid in passive motion and strong enough to walk, run, or swim against. Freestanding and moveable, these pools can be installed above ground, below ground, or partially below ground. The deep well feature is also designed to allow therapists to completely unload the patient.
For more information, contact SwimEx,
(508) 646-1600
www.swimex.com