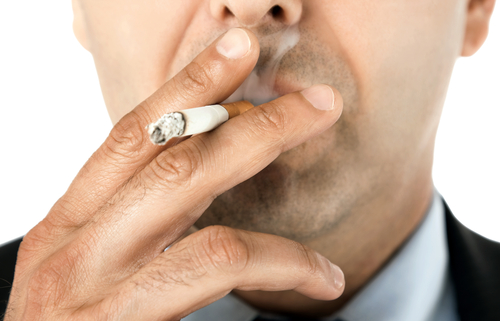 A new study from the Department of Orthopaedic Surgery at the Perelman School of Medicine at the University of Pennsylvania showed that cigarette smoking leads to longer healing times and increased rate of post-operative infection and complication for patients that have sustained a fracture or traumatic injury to their bone. The findings of this study corroborate early evidence. The full results of this new study are being presented this week at the annual meeting of the 2013 American Academy of Orthopaedic Surgeons in Chicago, Ill.
The research team examined previous studies that examined the effects of smoking on bone and soft tissue healing using Medline, EMBASE, and Cochrane computerized literature databases. A total of 6,480 patient cases that were treated both surgically and non-surgically were evaluated in the studies. The results of the study show that for all injury types, fractured bones in patients who smoke take approximately 6 weeks longer to heal than fractured bones in non-smokers (30.2 weeks compared to 24.1 weeks).
The results also show that fractured bones of smoking patients are 2.3 times more likely to result in non-healed fractures than in non-smokers.
Samir Mehta, MD, chief of the Orthopaedic Trauma and Fracture Service at Penn Medicine, states that the "study adds substantial support to a growing body of evidence showing that smoking presents a significant risk to fracture patients." Mehta adds that these risks should be addressed with a patient at the time of injury as well as when considering a surgical treatment. As health care professionals have an opportunity to help patients, Mehta says "the effects of smoking intervention programs need to be discussed and instituted to promote better outcomes for post-fracture patients."
Source: Perelman School of Medicine at the University of Pennsylvania