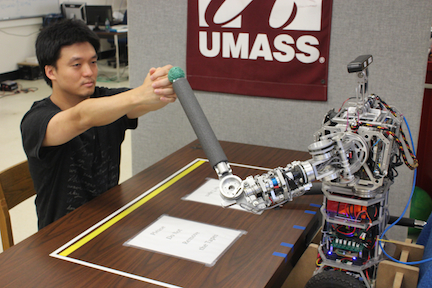 In an early experiment using a humanoid robot to deliver speech and physical therapy to a stroke patient, researchers at the University of Massachusetts Amherst observed noteworthy gains in speech and physical therapy and a significant improvement in quality of life. The client, who had aphasia and physical disability on one side, completed a robot-mediated program of speech therapy only for 5 weeks and physical therapy only for 5 weeks in the sole condition.
The client also attended back-to-back speech and physical therapy sessions for 5 weeks for the sequential condition. The University of Massachusetts Amherst report notes that over the course of the experiment, the client made "notable gains in the frequency and range of the upper-limb movements." In addition, positive gains were also made in verbal expression. Notably, the improvements in physical function and speech were much greater when the client was engaged in only one therapy.
Yu-kyong Choe, a speech language pathologist and the leader of the study, along with computer science researcher Rod Grupen, are in the second year of a grant from the American Heart Association to investigate the effect of stroke rehabilitation delivered by u-Bot5, a humanoid robot. Choe says it is clear from the study that a personal humanoid robot can delivery therapy, such as arm movement tasks, to help people recover in an engaging way.
The research team is seeking ways to bring more and longer-term therapy, as well as social contact, to individuals recovering from a stroke. The team hopes to not only help improve the client's quality of life but also improve outcomes and make a significant impact on the cost of elder care.
Photo Appears Courtesy of University of Massachusetts Amherst
[Source: University of Massachusetts Amherst]