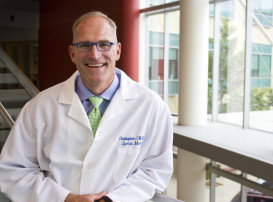 According to a report from the University of California, San Diego (UCSD) Health Sciences, Christopher Wahl, MD, a nationally recognized orthopedic surgeon, has joined the UCSD Health System as the new chief of Sports Medicine. The report notes that Wahl, recognized for his specialty in treating complex, high-energy traumatic sports injuries, aims to further elevate the Health System's reputation for offering compassionate and innovative surgical care to improve the lives of patients.
Steven Garfin, MD, says that Wahl is passionate about treating elite and recreational athletes and is a distinguished surgeon in the treatment of complex knee ligament injuries and dislocation. In addition, Wahl's practice will also focus on repair of the knee and shoulder, cartilage restoration and transplantation, rotator cuff pathology, shoulder stabilization, and treatment of fractures. He states he is "honored to bring some new ideas and expertise to UC San Diego Health System."
Wahl, who has been repeatedly named as a "Top Doctor" in orthopedics and sports medicine surgery by U.S. News & World Report, recognizes that there may be a number of different solutions to a medical issue and there is no "one-size-fits-all" solution to injury treatment. He explains that he tries to understand his patient's goals and learn about them as an individual, and works toward the goals with the patient in the context of what orthopedic science has to offer.
He believes this type of quality care takes effort and time and is not seen frequently in the medical climate of today. Wahl declares that as the new chief of UCSD Medicine, he is "enthusiastic to build on UC San Diego Health System's exceptional resources to cultivate something unique for our patients."
Photo Appears Courtesy of UC San Diego Health System

[Source: University of California, San Diego Health Sciences]