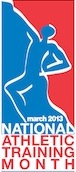 Athletico Physical Therapy will celebrate the work of athletic trainers and support National Athletic Training Month with education and fundraising initiatives throughout the month of March. Athletico, a Midwest-based group that provides orthopedic rehabilitation services to communities in Wisconsin, Indiana, and Illinois, will be working with town and city officials to help recognize the profession of athletic training in local communities.
One initiative of Athletico Physical Therapy is student-athlete education, and the athletic trainers (ATs) of the group will educate student-athletes and staff on the roles and responsibilities of ATs. In addition, the ATs will educate young athletes and staff on the ways in which "Every Body Needs an Athletic Trainer," which is the message of National Athletic Training Month.
Athletico will also spread this message through a Facebook photo campaign, and ATs of different groups of people can submit unique photos of them holding the banner for National Athletic Training Month. The public will have the opportunity to vote on Facebook for the best photo among the top 10 photos, which will be selected by the management team of Athletico.
The PT group will also host a fundraiser for the Chicago Hornets Sled Hockey Team, a team for youth 20 years and younger with a physical disability who wish to play hockey. The mission of the Hornets' is to provide youth with physical disabilities the opportunity to learn and enjoy the game, all at no cost. This will be the sixth year Athletico has fundraised for the team, and the group has raised nearly $30,000 for the Hornets over the last 5 years.
For additional information on these initiatives, contact Carol Czaplicki at (630) 575-6220.
[Source: Digital Journal]