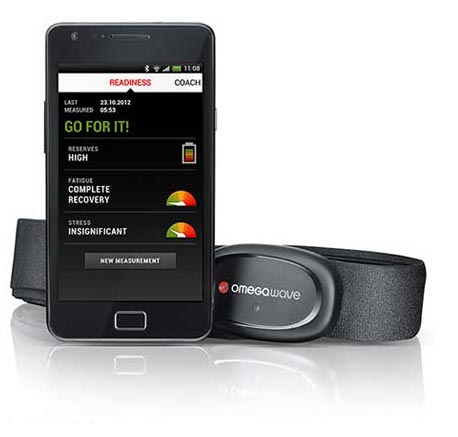 The physiological assessment technology by Omegawave is now offered as a new cloud/smartphone-based mobile service as an aid for fitness enthusiasts and athletes looking to improve their performance. The Omegawave service is a physiological feedback tool that is designed to quickly and non-invasively assess an individual's readiness for training. The feedback is intended to help the user make smarter decisions about their training and exercise plans by providing information on fatigue, stress, and recovery status.
In two minutes at rest, the Omegawave ECG Sensor belt measures and records data that analyzes these factors, such as stress level and adaptation reserves, and the Omegawave mobile application provides the results in the form of personalized training advice, aerobic readiness trends, and recovery guidelines. The results are provided directly on the user's smartphone or tablet computer.
The key benefits of the Omegawave, including tracking athletic progress and optimizing daily training, contribute to the ultimate outcome of improved fitness, overall health, and athletic performance, according to the news release. The cloud-based Omegawave service is currently available as a risk-free trial, and users will receive a free three-month subscription to the readiness assessment service with the purchase of an ECG Sensor Belt.
For additional information on Omegawave, visit www.omegawave.com.
Source: Omegawave