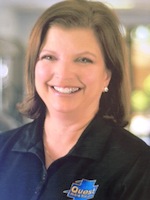 The Physical Therapy Products team is pleased to announce we have selected a winner out of the pool of respondents who participated in the reimbursement survey featured in the January issue. Cindy Reeder, MS, MS, PT is the winner of a $25 Starbucks gift card, and she was one of the respondents for this survey who shared her insight and feedback regarding finding success under the current reimbursement framework. Reeder resides in South Mississippi, where she is presently practicing home health physical therapy, which she has done for 22 years.
The questions asked in this survey ranged from Medicare reimbursement to therapy service practices.
The survey results revealed information regarding how practices are reimbursed, showing that private-pay insurance was a source of significant revenue. In addition, the survey revealed that Medicare reimbursement is a revenue generator at nearly every practice, though the total amount it may be for each respondent's practice varied. A final source of reimbursement for physical therapy clinics was cash pay services, and a number of practices are taking at least some profit from this type of service.
The Physical Therapy Products survey also highlighted the specific conditions for which most individuals receive treatment. Among survey takers, postsurgical conditions were the top conditions treated, with injuries due to a slip-and-fall coming in second. According to the survey, other conditions include geriatric patients, amputees, and orthopedic-overuse injuries. The types of therapy provided included pain management, manual therapy, therapeutic exercise, and neuromuscular re-education.
The reimbursement survey also aimed to identify trends in growth strategies that practices were planning as a means of maximizing reimbursement this year. Providing women's health services was a top answer among respondents, while expanding cash pay services and growing fitness classes were other objectives to boost reimbursement. Additional services included aquatic therapy, senior fitness, laser treatment, oncology, and pediatric occupational therapy.
Congratulations again to Cindy Reeder, and thank you to everyone who participated in the reimbursement survey!
[Source: Physical Therapy Products]