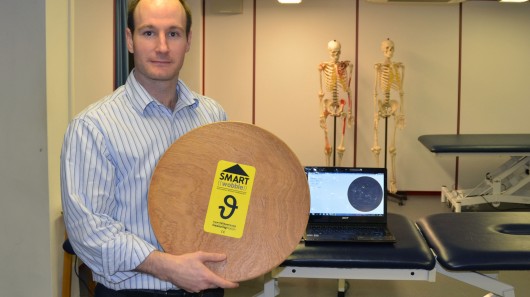 The SMARTwobble is a new interactive wobbleboard that will allow clinicians to better measure improvements in a patient's balance. Developed by Dr. Jonathan Williams, a physiotherapy lecturer at Bournemouth University (BU), the wobbleboard is wirelessly linked to computer software that objectively measures wobbleboard performance and calculates a score, which patients can work to improve.
Wobbleboards are presently used by chiropractors, physiotherapists, osteopaths, and sports therapists to improve balance and prevent the risk of recurrence following an injury, but Williams states that it can be difficult to tell how well a patient is doing and if his or her balance is improving. However, with the wireless technology within the SMARTwobble, it enables the "quantification of performance."
The wobbleboard has a sensor that measures the degree of wobbleboard tilt when a patient is on it, and then a report is created that allows the clinician to measure the performance against prior attempts and the average score of a person with no injury. Williams states that with the new wobbleboard, a clinician can see if a patient is below par and set objectives for the patient to work towards.
The SMARTwobble also features interactive games, and a patient can use the board like a joystick to negotiate a ball around a maze. This new device will be placed in different local clinics for people to try out and give feedback, and Williams hopes that it will be embraced by therapists, clinicians, and sports teams as a method of testing balance to aid in determining the risk of a player getting injured.
Photo Appears Courtesy of Bournemouth University
[Source: Bournemouth University]