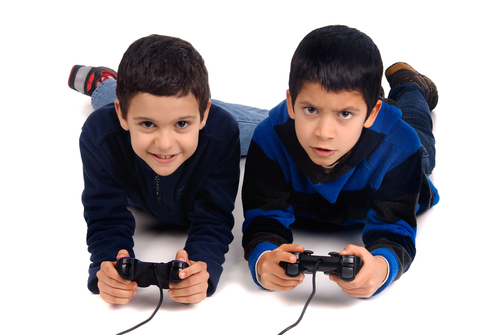 A new study conducted by researchers at the George Washington University School of Public Health and Health Services (SPHHS) suggests that certain active video games may boost energy expenditures among a group at high risk for unhealthy weight gain: inner-city children. The study, published online in the scientific journal Games for Health, aimed to see how traditional physical education (P.E.) activities would compare to active video games; specifically, Dance Dance Revolution (DDR) and Winds of Orbis: An Active Adventure (Orbis).
The children in the study reported to their regularly scheduled P.E. classes but were randomly assigned to three 20-minute sessions of DDR, Orbis, or their normal gym class. A researcher supervising the testing measured each child's energy expenditures during the sessions. The research team discovered that, on average, the kids expended more energy when they participated in the P.E. activities. However, the researchers also found that active video games also spurred the students enough to meet the "recommended intensity criteria for vigorous activity."
The lead author of the study, Todd Miller, PhD, states that the findings suggest that for younger school children, E-gaming might be a useful alternative to traditional physical education. For middle school children, the study did find that the video games weren't enough to entice them to move vigorously enough to meet guidelines. He adds that only the teenage boys in P.E. class played hard enough to meet the intensity requirements for fitness.
Todd states that the study is the first to focus on African American and other minority children, who are at a high risk for obesity. He feels additional studies must be done to determine if kids may possibly gain more fitness benefits with games like Orbis.
Source: Games for Health