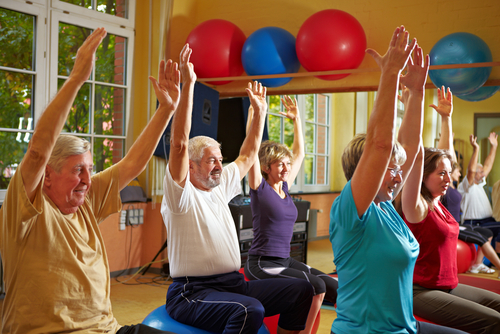 The beginning of a new year frequently brings with it resolutions to exercise and begin a healthful new lifestyle, and this is no less important for senior citizens. As seniors age, remaining active becomes increasingly important, and non-traditional physical therapy options may help keep seniors engaged, active, and healthy. Seniors are likely to be more receptive to physical therapy when caregivers and physical therapists create an individualized plan that fits both their unique interests and lifestyles.
As research shows that it can be difficult to motivate seniors to begin to exercise if it wasn't previously a priority, integrating low-impact activities, such as yoga, into a senior's exercise plan may increase the likelihood that they will commit to a new, healthy lifestyle. In addition, progressive programs for senior citizens are incorporating non-traditional exercise elements, which is different than traditional physical therapy programs that typically include things like aquatic therapy and weight training.
A variety of outdoor activities may serve as excellent alternatives to traditional exercise for seniors. Outdoor undertakings such as gardening, horse shoes, and balloon volleyball each have healthful benefits but are fun, enjoyable activities and games for seniors. Another alternative form of exercise is Wii bowling, which involves the participant grabbing a lightweight video game controller. This is an entertaining activity that may be a great choice if the senior is unable to handle a heavy object, such as a horseshoe.
Another non-traditional fitness activity is chair exercises, which incorporates everything from arm circles to knee extensions for a simple but effective way to exercise. Caregivers and physical therapists should understand that exercise programs are not "one-size-fits-all" and, as such, should be developed with the unique needs, interests, and lifestyles of the senior in mind so as to encourage them to maintain an active, healthy way of life.
Source: Largo Patch