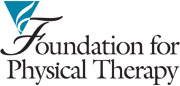 The Foundation for Physical Therapy recently announced that the Magistro Family Foundation bestowed a gift of $500,000 to support the Magistro Family Foundation Endowment Fund. The Fund was created in 1998 with the purpose of supporting relevant clinical research that evaluates the effectiveness of interventions commonly delivered by physical therapists, and moving forward the fund will support health policy research.
This charitable gift to the Foundation for Physical Therapy includes support for the campaign to establish a Center of Excellence for Health Policy Research. With this recent donation, the Magistro Family Foundation Endowment Fund now exceeds 42 million and will continue to provide vital grant funding in the future. Since its establishment, the fund has provided 7 physical therapist researchers each with a $40,000 Magistro Family Grant.
Charles Magistro, Foundation Emeritus Trustee, states that as health policy research is a significant factor in the future of physical therapy, it is a positive move for the Foundation fund "research that promises to enhance clinical practice." The Foundation for Physical Therapy is a nonprofit organization committed to improving the quality and delivery of physical therapy by providing support for physical therapy research as well as doctoral scholarships and fellowships.
Source: Foundation for Physical Therapy