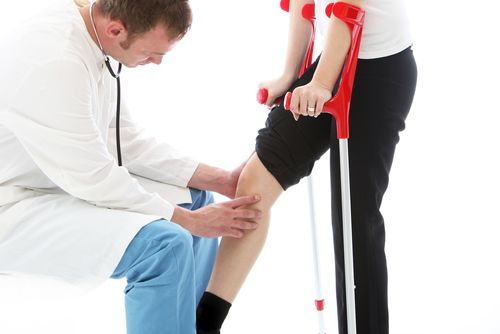 A new study published in Arthritis Care & Research reveals that individuals who undergo a total knee replacement (TKR) are at an increased risk for gaining weight, which may lead to other health problems. The study showed that almost one-third of TKR patients gained 5% or more of their starting body weight within 5 years of the procedure. A 5% weight gain may not translate to too much, but the authors of the study feel it is "clinically important" as it may lead to significant effects on cardiovascular and diabetes-related risk in addition to pain and function.
The research team analyzed data from a large patient registry, which includes more than 900 people who underwent a TKR surgery between 1995 and 2005 at the Mayo Clinic in Minnesota. The researchers compared the collected information to a sample of people from the same geographic area who did not have the surgery, ultimately finding that 30% of patients who had TKR gained 5% of their presurgery weight back 5 years following the procedure.
In addition, those at an especially high risk of gaining weight after the surgery include people under the age of 70 years, those who underwent a second joint-replacement procedure, and those who had lost a substantial amount of weight before the surgery.
The findings of the study go against the rational assumption that TKR patients are more likely to lose weight after the procedure because the reduced pain and increased mobility of patients would lead to an increase of exercise and activity. A New York-based orthopedic surgeon states that the key indicator of a successful surgery is the relief of pain and not the resumption of full activity, but regardless does encourage other surgeons to discuss the possibility of weight gain with patients.
[Source: Arthritis Care & Research]