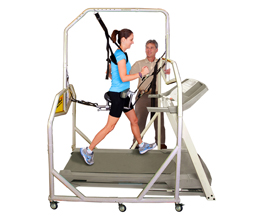 GlideCycle reports that the Bolingbrook, Ill-based company Patterson Medical, has picked up its product GlideTrak, designed to provide high percentage body unweighting to centers for sport training, fitness, therapy, and rehabilitation. The GlideTrak reportedly features a Pelvic Suspension Design intended to lift the body and give complete support for pain-free exercise and gait training.
The product's seating system is engineered to cradle the pelvis and lift the body weight without any pressure on sensitive perineal tissue, or by relying on potentially uncomfortable or restrictive harness systems. Strap adjustments allow users to adjust the desired amount of unweighting from complete unweighting to full weight bearing.
The company also reports the GlideTrak can accommodate rehabilitation patients, offering users natural body movement, earlier pain-free intervention, secure training while in rehabilitation, and maintenance of peak fitness levels during recovery.
A short video that details the use and benefits of GlideTrak is available online, or for more information, visit www.glidecycle.com
Source: GlideCycle