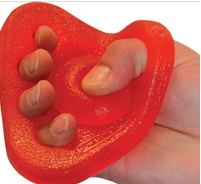 An exerciser designed to provide varying resistance levels to strengthen the hand and fingers is available through Ball Dynamics International LLC, headquartered in Longmont, Colo. The Power-Web Flex-Grip exerciser is marketed in three different resistances and is comprised of finger and thumb holes.
The product is two-sided, with one side featuring a ball to squeeze and a second side with buttons and a thumb pad intended to exercise fingers separately and optimize dexterity and strength in the fingers and thumb. It is also said to be good for strengthening the forearm. Users' muscles can be worked separately or in tandem.
Made of non-allergenic latex-free polymer, Power-Web Flex-Grip is manufactured to not melt, leak, or crack. Is also made to be disinfected and washable.
Ball Dynamics reports that Power-Web Flex-Grip is an exerciser engineered to accommodate uses in rehabilitation, sports training, and stress relief. For more information, visit www.fitball.com.
[Source: Ball Dynamics International LLC]