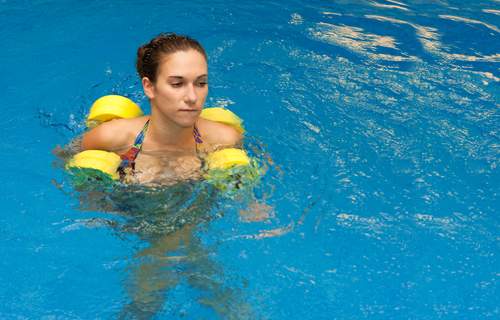 When treating patients with knee pain or injury, therapists at Regional Physical Therapy, Midwest City, Okla, look to pools from SwimEx Inc, Fall River, Mass, to find relief, according to a press release issued by JoTo PR. Regional Physical Therapy first acquired a SwimEx pool in 2007.
Described as an NBA-sized pool that contains a full wall of current created by a paddlewheel, SwimEx can help runners and swimmers train at high velocity while staying in the same place. It can also reportedly aid those who need to have resistance added to exercise, which can range from slight to very strong depending on the speed of the current.
Regional Physical Therapy shares a recent case study involving a 20-year-old female athlete who ran cross-country for the University of Central Oklahoma (UCO). The athlete was unable to run because of knee pain, and had seen no relief of the symptoms after almost 3 months of conservative treatment. She was referred to Regional Physical Therapy, where it was determined she was not a candidate for surgery and might benefit from including aquatics in her treatment.
The athlete used the SwimEx pool to train in a pain-free environment, since she could run against a current at 30% weight bearing during therapy while maintaining her cardiovascular endurance and muscle strength. After 1 month of gradual progression to higher levels of weight bearing, the athlete was reportedly able to beginning running on a treadmill and, 1 week later, return to her normal training routine with her team.
According to Vicki Buchanan, owner of Regional Physical Therapy, the therapists there "see significant improvements in our patients who use the SwimEx because we can change the resistance and pool counter-current, which makes the training gradual and individualized."
Regional Physical Therapy also offers on-site physical therapy, comprehensive programs, and massage services. Learn more at www.regionalpt.com.
[Source: JoTo PR]