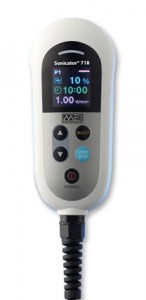 Mettler Electronics Corp, headquartered in Anaheim, Calif, recently added a new handheld therapeutic ultrasound to its existing product line. The 7.1-ounce Sonicator 718 is designed to fit into the user's hand, and is marketed with a rechargeable lithium ion battery and a charger. The company notes that during time in the clinic, users can also treat patients using power from the wall.
Though the company offers several therapeutic ultrasound devices designed for portability, the Sonicator 718 is described by Mettler as taking portability "one step further," by making treatment available in locations such as dugouts, sidelines, or even on airplanes. The company also characterizes the highly portable unit as a "full powered" ultrasound unit.
The Sonicator 718 also features options such as a pouch with a shoulder strap for use in the field and a stand for use in the clinic. The waterproof Sonicator 718 provides users full clinical power and one-hand operation. The 2 Wcm2 continuous, 3 Wcm2 pulsed product offers users an organic EL display and contact indicator.
For more information visit www.mettlerelectronics.com