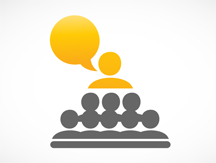 Evidence In Motion (EIM) Institute of Health Professions, Louisville, Ky, has announced that it will be in attendance during the American Physical Therapy Association (APTA) Combined Sections in San Diego, slated for January 21 to 24. According to a recent news release, EIM will host several faculty presentations during the conference, and also present an interactive booth to showcase its educational offering and products.
The EIM release estimates the Combined Sections Meeting will bring together more than 9,000 physical therapy professionals from all areas of practice to collaborate, promote the latest research, and participate in national, section specific meetings.
EIM notes that faculty members scheduled to present during the conference include Jake Magel, PT, DSc, OCS, FAAOMPT, "Manual Therapy Interventions for the Lower Extremity: A Laboratory Intensive Course, Part 1," Lynn Steffes, PT, DPT, "Essentials to Starting a Private Practice Part 1," and "Taking Your Practice to the Next Level, Part 1" Tiffany Shubert, MPT, PhD, "Geriatrics Balance & Falls SIG: Preventing Injuries and Rehospitalizations," and Julie Whitman, PT, DSc, OCS, FAAOMPT, "Low Back Pain ICF CPG and Introduction to the Research Network Program Initiative."
For a full list of EIM faculty member presenters and additional information about EIM's educational offerings and products, click here.
Source: Evidence in Motion