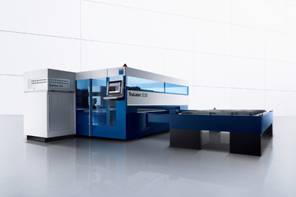 Nautilus commercial fitness products manufacturer Med-Fit Systems, Fallbrook Callif, reports that global demand is behind the $1 million purchase of a new laser and up to 20 manufacturing jobs.
"Worldwide demand for our products is strong," states Dean Sbragia, CEO of Med-Fit Systems. "The addition of the new machinery and personnel will allow us to accommodate growth and produce even higher quality products. Our new 10 series cardio and innovative K2 vertical climber are major contributors to our growth, and the new Trumpf laser enhances our ability to expand both our strength and cardio production capability."
"With our laser work now in-house, we can create "inventory on demand", rather than ordering in bulk," says Sean Smith, Med-Fit Systems' COO. "This allows us to cut excess inventory costs and improve our already very strong 'lean' ethic," he adds.
Trumpf 3030 laser will be housed in a 300,000 square foot manufacturing plant in Independence, Virginia. The 31,000 pound German engineered /made in the US flatbed laser complements the existing automated tube laser and robotic welding machinery in the modern facility.
Med-Fit Systems purchased substantially all of Nautilus' commercial assets in February 2010, according to a Med-Fit media release. Since acquisition, Med-Fit has brought back to the USA the manufacturing of all its commercial cardio and strength products, of which many were being built in mainland China and Taiwan.
Greg Webb, Vice President of Engineering and 32 year employee at Nautilus commercial summed the anticipated impact of the new laser. "[It] makes us more efficient because we will no longer be forced to wait on outside vendors to turn around product. We used to have to wait 2 to 3 weeks, but now we can do it in our own facility in 1 or 2 days, using this high precision CNC (Computer Numerical Control) cutting."
The new Trumpf laser will also enable the company to manufacture their products greener. The laser reportedly relies more on water and steam for operation than chemicals, creating a smaller carbon footprint, using less energy and producing less waste than technologies the company used previously.
Source: Med-Fit