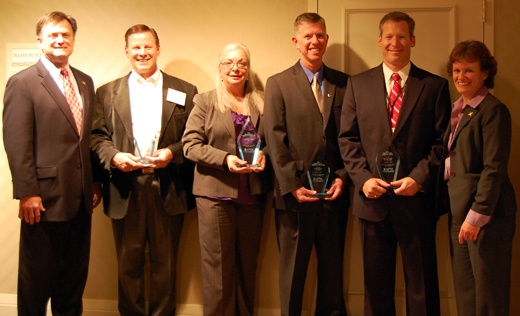 The American Physical Therapy Association has announced the winners of its 2012 State Legislative Leadership Awards. APTA president Paul Rockar and APTA vice president Sharon Dunn made the December 1 presentation during the State Policy and Payment Forum in Alexandria, Va.
Phil Moe, PT, South Dakota, and Emmett Parker, PT, MS, ATC, Alabama, each were recognized for their individual leadership on legislation advancing or defending Vision 2020 in the state arena. Moe received recognition for his work to successfully pass legislation intended to limit patient copays for physical therapy. The awards then spotlighted Parker's leadership in passage of legislation that made Alabama the 47th state to adopt direct access to physical therapy, according to an APTA media release.
Next, the APTA board of directors awarded the 2012 APTA State Legislative Commitment Award to David Morris, PT, PhD, Alabama, and to Kathleen Picard, PT, Minnesota. Morris' years of service supporting the Alabama Chapter's legislative efforts on many different issues were recognized by the board of directors, including infringement challenges, POPTS, and this year's direct access campaign. According to the APTA's media release, Picard's leadership efforts have played a key role in the Minnesota Chapter's success in advocating a range of state legislative and regulatory issues, such as the recent repeals of prior authorization in the state's medical assistance program.
Pictured at upper right are: APTA President Paul Rockar, PT, DPT, MS; Phil Moe, PT; Kathleen Picard, PT; David Morris, PT, PhD; Emmett Parker, PT, MS, ATC, and APTA Vice President Sharon Dunn, PT, PhD, OCS.
For more information about the awards and award winners, click here.
Source: APTA