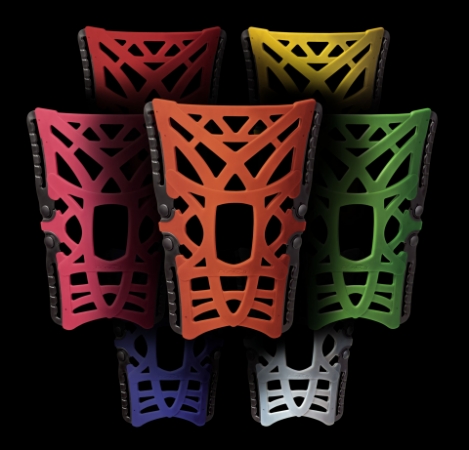 For a limited time and in limited quantities, the DonJoy Reaction Web Knee Brace from DJO Global, Vista, Calif, is available in multiple colors. Designed an alternative to the basic knee sleeve, the elastomeric web brace also has a new back pad designed to fit and conform better to the knee in a soft, breathable, and lightweight form.
Developed by William Nordt, MD, an orthopedic surgeon, the Reaction Web can reportedly decrease knee pain and help patients return to an active lifestyle. Its webbed design can help absorb shock and disperse energy across the knee, as well as dynamically stabilize the patella on all sides, bringing the patella into proper tracking position and reducing pain for patients with general patellofemoral instabilities.
According to DonJoy, the Reaction Web's combination of an open framework and mesh backing creates a comfortable fit and breathable solution for the relief of anterior knee pain. Adjustable strapping at the top and bottom of the brace also reportedly allow uniform pressure that works with the elastomeric web to stay in place for an extended period of time.
Visit www.djoglobal.com to learn more about the colorful options for DonJoy's Reaction Web Knee Brace.
[Source: DJO Global]