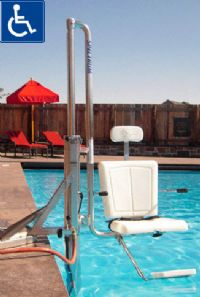 RehabMart.com recently entered a distribution partnership with Spectrum Aquatics, Missoula, Mont, with intent to offer Spectrum's pool and spa lifts to a wider consumer market. Spectrum reportedly offers a variety of pool and spa lifts, including those that are battery-powered, manually powered, water-powered, and radio frequency-controlled, as well as related pool accessories.
According to a press release from RehabMart.com, Spectrum's lifts are made with a passivated material, which means the product is less affected by water, air, or other environmental factors and presents resistance against corrosion. They are also reportedly ADA-compliant, which can benefit hotels, health clubs, recreation centers, and aquatic facilities required to meet the ADA 2010 Revised Requirements for Accessible Means of Entry and Exit for Accessible Pools. Facility owners are required to meet the guidelines outlined in this document by January 31, 2013.
Spectrum Aquatics is a member of organizations including the Medical Fitness Association, USA Swimming, and the American Institute of Architects. It is part of the EverActive Brands, and its parent company is PlayCore. Visit RehabMart.com to view the full line of Spectrum Aquatics pool and spa lifts.
Source: RehabMart.com