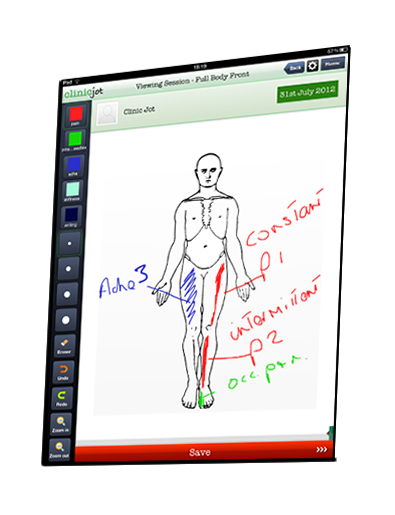 London-based Jotfiles Ltd has unveiled ClinicJot, an application for the Apple iPad designed to help therapists handle increasing workloads and earn higher profits. The app is described as an all-in-one therapist management tool available in a single download. Physical therapists can type or write notes, draw and write on photos, and handle clients, appointments, and other information.
ClinicJot allows users to "quickly and effectively create and manage appointment and client information on the go, without the need for an Internet or 3G connection," Ian Robinson, founder of Jotfiles Ltd, says. "It's the perfect solution for any discipline that requires better management of its clients and their clinical, therapy, or session notes," he adds.
According to a press release issued by Jotfiles, users can use ClinicJot to sync client appointments with the native calendar within any Apple device or computer, with direct map integration to aid with house calls. The app also reportedly offers e-mail appointment reminders, invoices, and financial/client reports. The data is password-protected and can be backed up to iCloud. A free evaluation version of the app, called ClinicJot Lite, is also available.
Visit ClinicJot's official page in the Apple App Store at itunes.apple.com/gb/app/clinicjot/id546431252 to learn more.
[Source: Jotfiles Ltd]