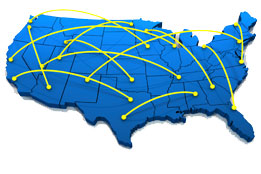 Travelers Haven has become the exclusive provider of traveler therapy housing services for Advanced Medical, Port Orange, Fla, a full-service staffing agency that specializes in travel therapy jobs. Advanced Medical reportedly has nearly 300 working travelers in physical therapy, occupational therapy, and speech language pathology; a majority of these traveling health care professionals need corporate housing that can last anywhere from 13 weeks to 1 year.
Jennifer Fuicelli, chief executive officer of Advanced Medical, says Travelers Haven has helped save the company on housing expenses and allowed its housing department talent to transition into revenue producing roles. Advanced Medical previously handled its corporate housing needs internally, which reportedly became less convenient as the company grew and began to use more regions of the country. Travelers Haven offers corporate housing in more than 5,000 cities.
Learn more about the travel therapy jobs offered through Advanced Medical at www.advanced-medical.net/therapy-jobs.
Source: Advanced Medical